Happy Diwali! If you've ever wondered about this bright holiday, look no further – I can't wait to introduce it to you! My name is Ellie Vengala, and I work as a Communications Specialist supporting many of our games, including Rainbow Six Siege and For Honor. I'm also part of the Asian Pacific Islanders Employee Resource Group (API ERG) at Ubisoft in its Toronto chapter. 
In India, our biggest holiday of the year is Diwali (or Deepavali, if you're from South India like I am). India is a vast, multi-faith country, so although Diwali originates from Hinduism, other religions like Jainism, Sikhism, also celebrate it each year.  
Typically, this festival of lights lasts around five days and lands anywhere in mid-October to mid-November depending on the Hindu lunar calendar. Every year, the main celebrations take place around the new moon – the darkest night of the lunar year – in 2022, this will be Monday, October 24.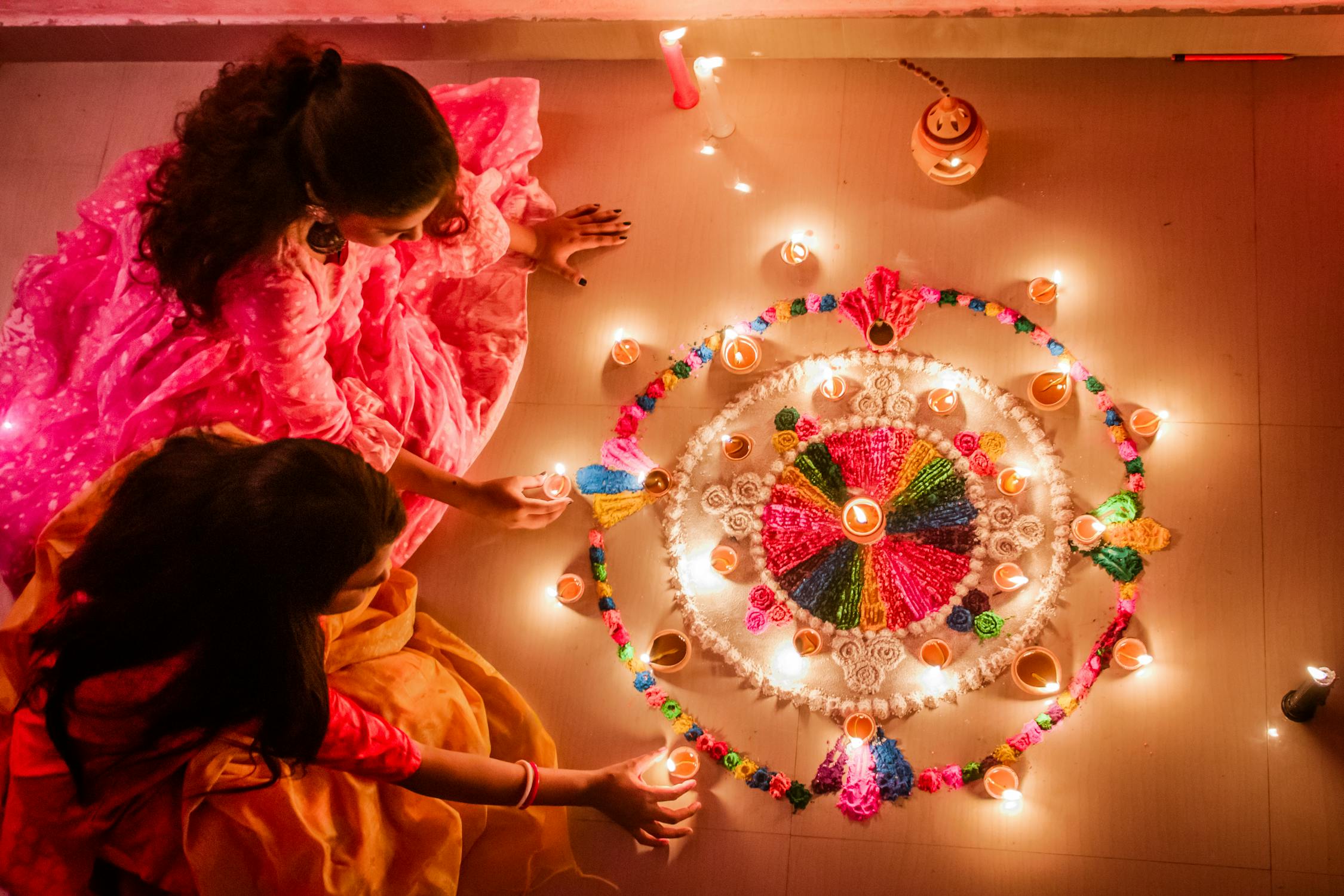 The origin of Diwali varies between regions of India as well as the religions that practice it, but the one most told draws from a Hindu myth. As the story goes in South India, Diwali celebrates the god Krishna (an avatar of Hinduism's most important god, Vishnu), defeating a demon that held a village hostage for a long period of time. In my family's storytelling, the village families stopped lighting their homes to hide from the demon's torment. So, after a long period of darkness, the village is allowed to bring light back into their homes – which they do in the brightest, colorful way with Diwali! 
In North India, Diwali celebrates the return of Lord Rama to Ayodhya after being exiled for fourteen years. During his exile, Lord Rama fought with the evil Ravana who abducted his wife, Sita. After defeating Ravana and rescuing Sita, Lord Rama went back to Ayodhya and was welcomed with fireworks. The entire village was decorated with lamps and since then, the tradition has not changed. 
A big part of Diwali is lighting clay lamps (known as deepas or diyas, where the name originates from) for the five days that protect from darkness. These are usually placed near a house's perimeter, in rows, acting as a protective border. While Hindus – and other religions – interpret Diwali differently, it is ultimately a celebration, where good has triumphed over evil and the lights carry symbolic hope that it will continue to do so, even on the darkest nights of the year. 
One of my favorite Diwali traditions consists of me lighting the deepas with my mother. I love coming up with new creative ways to position them each year. Lighting them every day for the duration of the festival also becomes a soothing routine – I almost want to keep them year around! 
In modern times, Diwali is also celebrated with fireworks, sparklers, and paper lanterns, but the clay lamps have been lit for centuries and remain at the heart of the festival.  
But that's not all! Two other things commonly found during Diwali are: 
Rangoli — colorful designs drawn in chalk, coloured flour or powder, or flower petals 
Tons of good food to feast on, including mithai (sweets) 
Here are some local celebrations of Diwali where each API ERG is based! 
For an adorable, mischievous celebration of Diwali, check out Mighty Little Bheem: Diwali on Netflix! 
Thanks for reading, and make sure to stay in the light this October! (Yes, lighting a candle counts). 
---
Read More: